Spain May Sanction Deloitte for Failure to Probe Bankia Assets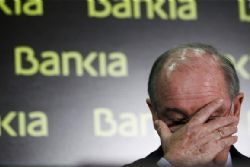 Spain started proceedings to sanction Deloitte SL and partner Francisco Celma Sanchez over their role as auditors of Bankia before it was nationalized last year.
The Spanish Accounting and Audit Institute, a unit of the Economy Ministry, said Deloitte may have breached rules that could have compromised its independence as an auditor, according to a June 13 report obtained by Bloomberg. Sanctions may include a fine or, in the worst case, stripping Deloitte and Celma of their licenses to work as auditors in Spain, the report showed.
Deloitte may have had a conflict of interest because it advised Bankia's parent company on its corporate structure at the same time it was auditing the lender, the institute said. Deloitte also didn't seek enough evidence to confirm the valuation of assets that Bankia's managers reported before its initial public offering, according to the filing.
Bankia was formed in 2010 from the merger of seven regional savings banks in Spain's first attempt to clean up losses from the real estate collapse. It listed on the stock market in 2011 in a deal that hinged on support from retail investors and was bailed out with about €22 billion of public money last year.
"This proceeding could perfectly well be dismissed or could conclude with a proposed penalty," Deloitte said in an e-mailed statement. "The proceeding focuses on technical formalities which in no case represent a modification of the entity's audited financial statements."
Deloitte has 15 days from June 13 to respond to the allegations, the document said.
Spokesmen at Bankia and the Economy Ministry in Madrid declined to comment and a spokeswoman for Deloitte referred questions to the statement.
Regarding the allegations the firm lacked independence "Deloitte concurs in full with Bankia's Audit and Compliance Committee, which did not establish any reservations," the auditing firm said.