Expat Scots to miss out on independence vote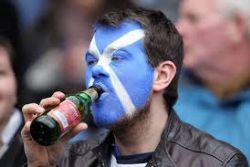 There has been much debate recently about whether longterm expatriates should retain their votes in the UK.
A recent case upheld the position to say that those living outside the UK for 15 year or more could not vote in elections.
Now the spotlight is being cast on Scotland as it gears up for a referendum on independence next year and many expats will not have their say.
Only people living in Scotland on September 18th 2014 when the poll is due to be conducted will be given a vote.
This discounts non-resident Scots living in England and other parts of the world, whether they intend to move back to their native land in the near future or not.
While Labour MSPs have branded the move "massively unfair", Bruce Crawford of the SNP, who convened the referendum bill committee, argued that any other approach would make the process too complex.
There are currently around 400,000 non-Scottish Brits living in Scotland and approximately 800,000 Scots living in other parts of the UK.
If these non-resident Scots were counted then the 5 million-strong population would be increased by 16% for the ballot.
However, the British, Irish and EU citizens living in Scotland will be allowed to vote on the future of Scotland.
The referendum will be based around a simple yes or no question that will be phrased thus: Should Scotland be an independent country ?
Another issue has been put forward by Baroness Symons in the House of Lords, suggesting that the whole of the UK should be allowed to vote, as the outcome will affect everyone.
The British government rejected this proposal and pointed out that only 11 referenda have been staged across the whole of the UK since 1973.
The Spanish Government and the Catalans alike are watching the situation with a keen eye, with rumours that they would veto the entry of an Independent Scotland into the EU.
Recommended Reading
• Spain to veto Scotland entry into EU
• "Catalonia is not Scotland" : Rajoy
• Spain key to Independent Scotland EU hope
Click here to read More News Stories by Expatriate Healthcare?