New routes to Murcia Airport.... but which one ?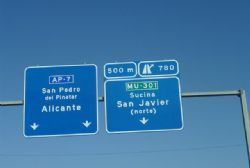 Spain's GoodFly has announced the launch of 6 new weekly flights from 'Murcia Airport'.
However, the press release issued by the Scheduled service airline based at Burgos airport, has failed to specify which Murcia airport : Corvera or San Javier.
Goodfly notes that as from Septemeber 11th flights will be provided all year round to both Madrid-Barajas and Barcelona-El Prat airports, to complement existing routes to Leon and Burgos.
Whilst it can only be assumed that the airline intends to serve Murcia's San Javier Airport, as opposed to the currently un-opened Corvera Airport, it can only add to speculation that the newer facility has lost all credibility within the aviation industry.
*Edit - Although the press release was ambiguous, as of this morning the Goodfly website has added the suffix 'San Javier' to their on-line booking service.
Recommended Reading
•
Murcia falls out of love with Corvera Airport
•
San Javier v Corvera : Confusion Continues
•
New arrival at San Javier - but what about Corvera ?