Answers demanded surrounding Castellon Airport.... again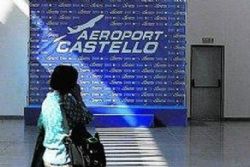 Earlier this week the Secretary for the PSPV-PSOE in the province of Castellon, Francesc Colomer, demanded answers from the Regional Ministry of Tourism concerning the situation of Castellon Airport.
Colomer referred to the airport as being "fundamental" to the economic future of the province, and stated how Castellon as a province placed no trust or reliance in any information being supplied on the matter by the Generalitat Valenciana.
Read further Castellon Airport news by clicking the link >> HERE <<.