Miltary to assume control of San Javier Airport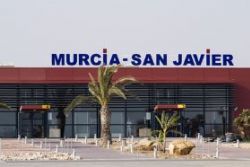 The Spokesman for the Regional Government of Murcia, José Ballesta, announced earlier this week how the Military is preparing to take sole responsibility for the operation of San Javier airport.Ballesta's comments came following a visit to the region by the Minister for Defence, Pedro Morenes, to welcome new Officers appointed to the General Air Academy at San Javier.
Ballesta intimated that Morenes was open to the suggestion that the facility could fall under the direct responsibility of the Ministry of Defence, however with 2 runways, one could be for the sole use of the Military, leaving the second for civilian use.
This, he stated, could happen regardless of whatever may or may not happen at Corvera airport.
Meanwhile, the Secretary of the PSRM, María José Lajarín, best summed up the situation, stating that "the reality is that Murcia still does not know exactly what is happening at Corvera or San Javier airports".
Recommended Reading
•
New routes to Murcia Airport... but which one ?
•
Murcia falls out of love with Corvera Airport
•
San Javier v Corvera : Confusion Continues
•
New arrival at San Javier - but what about Corvera ?