Spain's Garoņa Nuclear Power Plant Ceases Production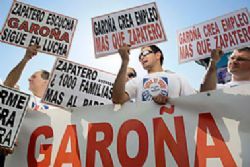 Spain's Santa Maria de Garoņa nuclear power station in the north-central province of Burgos, has finally ceased operation.
However, the 42 year nuclear plant - one of just 8 in Spain - closed yesterday under an order issued by the Ministry of Industry and Energy, continues to be the target of criticism from the opposition and non-governmental organizations, such as Greenpeace.
The Facility was closed due to economic and not safety reasons (the operators had not requested a licence to continue production), and the government has not ruled out reactivating the power plant "if it is possible,"according to a statement made by the Deputy PM on Friday.
The government has no plans to change the regulations covering the nuclear power industry, Saenz de Santamaria said.
Nuclenor, which is owned jointly by Endesa and Iberdrola, operates the power plant and is responsible for storing the uranium fuel used at the plant.
The PSOE opposition criticized the ruling PP government for holding out the possibility of reopening the plant.
Meanwhile, Greenpeace referred to the possibility of modifying regulations to reopen the Santa Maria de Garoņa plant as being "criminal."