At least 9 killed in Madrid bus crash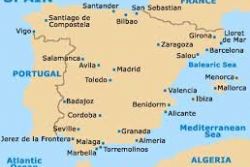 At least 9 people were killed in a bus crash in Spain on Monday.
The accident happened 6km from the city of Avila, north-west of the capital city of Madrid.
It appears that the driver of the bus, belonging to the company Cevesa and plying from Serranillos to Avila, lost control on a curve on the N-403 road and causing the bus to fall into a small cutting.
A crash barrier stopped the bus from turning completely over. It is thought the casualty list could have been longer given that the bus was around 75% full.
Some passengers were thrown out of the vehicle, while others are reported to still be trapped inside. Survivors have said that the bus appeared to be going too fast at the time the accident happened.
Most of the victims appear to have been sitting on the right hand side of the bus, which took the greatest part of the impact.
Meanwhile the emergency services reacted quickly, sending 3 ambulances and 2 helicopters, complete with medical teams to the crash site.
The government delegate for the region of Castilla La-Mancha, Ramiro Ruiz Medrano, confirmed the victims had been taken to the Carlos Sastre Sports center in Avila.
He added the bus had all of its required paperwork and said the accident location had no reputation as an accident blackspot.