Catalan premier backs down over pro-sovereignty register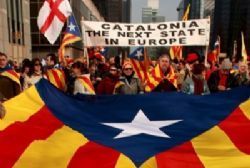 The regional premier of Catalonia, Artur Mas, has performed a volte-face on his proposal to create a so-called "list of adherents" to the policies of his pro-sovereignty administration, at least in name. Speaking during an official visit to Brazil, Mas, of the nationalist CiU bloc, did not rule out the compilation of such a registry but said the proposed name could lead to "misunderstandings."
The Catalan leader said the list should be seen as a "tool of citizen participation" but was not intended to "pressurize anybody", something which opposition groups see as implicit in the creation of such a document.
A list of this kind could be employed in CiU's sovereignty drive, Mas conceded, to garner support for the policy of separating from Spain, but he stressed that "people support governments by means of elections".