Spain could apologize to Bolivia for Snowden 'misunderstanding'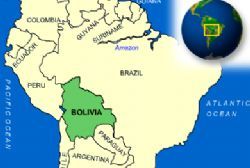 Spain is ready to apologize to Bolivia's president for events that delayed his plane, the foreign minister said on Tuesday, but he again denied banning the jet from Spanish airspace on the belief that U.S. fugitive Edward Snowden was aboard.
Bolivia has accused Spain, France, Portugal and Italy of closing their skies to Evo Morales' plane after being told it was carrying the former U.S. spy agency contractor from Moscow to Bolivia.
"If any misunderstanding has taken place, I don't have any objection to saying sorry to President Morales," Foreign Minister Jose Manuel Garcia-Margallo said.
He repeated Spain's denial that it had closed its airspace to Morales's flight.
"Spain authorized the transit of its airspace. It granted airspace permission on the basis of the word of the Bolivian Foreign Minister," Garcia-Margallo said. "We believe the word of our allies and friends."
Keen to maintain historical ties to the region, a growing export market, Madrid has renewed efforts in recent months to nurture relationships with Latin America after expropriations last year by Bolivia and Argentina hit Spanish companies.
On Sunday, Bolivian Foreign Minister David Choquehuanca said Garcia-Margallo had told him he had been informed Snowden was on Morales' plane last week.
According to Choquehuanca, Garcia-Margallo asked the Bolivians for a written note vowing the Snowden was not a passenger before flight permits were restored.
U.S. President Barack Obama has said any country that gives Snowden shelter would face serious costs. Snowden is believed to be holed up at Moscow's Sheremetyevo International Airport, where he landed on June 23 from Hong Kong.
The Bolivian government believes the U.S. knew that Snowden was not on the plane and simply wanted to intimidate Morales because of his outspoken criticism of U.S. policies. The president has since said he would offer Snowden asylum.
Bolivia has demanded Spain, Italy, Portugal and France tell them who had said Snowden was on board Morales flight.
"The rumor that Snowden was on the plane was a rumor extended across the world and acknowledged by the Bolivian authorities in the texts they sent me," Garcia-Margallo said. Asked whether the alert that Snowden was on the flight was raised by the United States, he said: "among other things".