GM moves production of Opel Mokka to Spain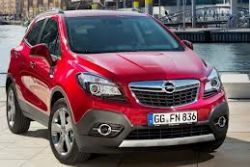 General Motors is moving a large chunk of production of the new Mokka subcompact sport-utility vehicle from South Korea to Spain, responding to a rare bright spot of growing demand in depressed core European markets.
Opel, GM's loss-making European division which sold over 1 million cars last year, has attracted 110,000 orders from the region for the Mokka alone since the car went on sale in June 2012, a spokesman said on Wednesday.
Opel will start building the Mokka in Zaragoza from Q3 of 2014 in a move that will help exhaust the plant's spare capacity and protect its 5,800 jobs, the company said.
The2 other models currently built at Zaragoza, the Corsa compact and Meriva compact van, are grappling with shrinking demand, pushing their 2012 sales down by 14% and 36% respectively.
"We'll be able to produce the Mokka in greater numbers and supply our customers more quickly," chief executive Karl-Thomas Neumann was quoted as saying.
Opel lost €1.4 billion in Europe last year as it struggled to cover the fixed costs of factories operating far below capacity. Auto sales in the austerity-strapped region plunged to a 2-decade low in May, further eroding hopes for recovery this year.
The GM division approved the shutdown of a German car factory in Bochum in April, the first such closure in decades and a key element in management's strategy to return to profit in 2015 at the earliest.
Opel's share of the EU's new-car market stood at 6.8% after 5 months, unchanged from last year, compared with 12.6% at Volkswagen, 7.5% at Ford and 6.2% at Peugeot.
Workers at the Zaragoza plant will initially use kits from South Korea to assemble the Mokka, aiming to gradually increase the SUV's local content in coming years. GM will spend €80 million to ready Zaragoza for Mokka production.
The U.S. parent, perennially beset by speculation it could abandon the Opel brand, said in April it planned to invest €4 billion in the marquee through the end of 2016 to support development and the launches of 23 new models and 13 new engines.