Alicante Airport Passenger Numbers up 11pct in June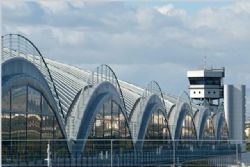 A total of 996'864 passengers traveled through Alicante's El Altet airport during June of this year, together with 6'811 flights, representing a growth of 11.0% and 12.3% on June 2012 respectively.
The totals for the first 6 months of the year came to 4,251,785 passengers, and 30'531 flights, representing a growth of 6.9% and 5.8% on the same period last year.
As far as passenger numbers by nationality is concerned, the UK led the way 474,145 passengers, Spain with 92 294 passengers, Germany with 69,227 passengers, Norway with 66,413 passengers and the Netherlands with 52,720 passengers.
Countries that grew the most during the month of June were Denmark with 90%, Norway and Sweden which saw passenger numbers grow by 40%, Russia with a 43% increase and Poland with 35%.
With regards to the number of flights, once again the UK led the way with 2,922 flights, Spain with 899 flights, Norway with 470 flights, Germany with 424 flights and Holland with 335.