Spanish court to hear Repsol lawsuit against YPF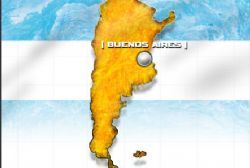 A Spanish court has agreed to hear an unfair competition claim brought by oil major Repsol against former Argentine subsidiary YPF over the exploration of the vast Vaca Muerta shale oil field, court documents seen by Reuters show.
While the consequences of the decision, dated July 5, remain to be seen and a trial could be years away, the move could eventually make it more difficult for international firms to invest in Vaca Muerta.
Some analysts also believe it could put pressure on Argentina to settle compensation with Repsol for the asset, which is still claimed by the Spanish oil group and has a potential value estimated at anything from €5.72 billion to as much as €69 billion.
Argentine President Cristina Fernandez seized Repsol's majority stake in YPF in May 2012, accusing the Spanish group of insufficient investment in the unit.
Repsol denied the charges and has filed lawsuits against the country for a loss of €8.0 billion.
The company declined to comment on the judge's decision.
A YPF spokesman in Buenos Aires downplayed the decision.
"It doesn't resolve the fundamental question," the spokesman said. "As of now, the legal discussion will start regarding the fundamental question, whose effects are exclusively circumscribed to the Spanish market."
Repsol has also lodged suits against U.S. oil firm Chevron and Bridas Energy, led by Argentina's Bulgheroni family, after they signed two agreements worth €1.1 billion each to invest in Vaca Muerta.
The Madrid court turned down an appeal from YPF arguing the case should not be tried in Spain and has started proceedings to gather the claims against YPF, Chevron and Bridas into the same lawsuit, a court writ seen by Reuters said.
The judge will now look into the Repsol demand and decide whether YPF's deals with Chevron and Bridas should be frozen.
Repsol has threatened to sue any company which tries to make a profit out of the oil field, located in Argentina's southern Patagonia region.
The Spanish firm had signed at least 15 memorandums of understanding with potential strategic investors in the months before the YPF nationalization, intending to spend an annual €19 billion on the field, according to Repsol documents about the YPF seizure.
The move by the Spanish court follows recent talks between Argentina and Repsol over possible non-cash compensation for the seizure of the Argentine assets.
Repsol said it had been offered by Argentina a 47% stake, estimated to be worth €2.65 billion, in a joint venture to develop Vaca Muerta. The offer also included €1.1 billion in state bonds that would have to be invested in the venture.
Argentina denied it had made any official offer.