Spain sets provisional prices for fibre optic access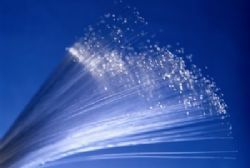 Spain's telecoms watchdog said on Friday it had provisionally set prices for Vodafone and Orange to access Telefonica's superfast internet installations following an agreement between the three earlier this month.
The prices offered to Orange and Vodafone to access the market leader's fibre optic installations in individual buildings are 18 - 24% below the original cost set for the 2 companies by Telefonica, the regulator said.
The regulator (CMT) did not specify the new prices, saying they were confidential, but said they meant the operators would save between €8 million €14 million in their fibre optic rollouts.
The deal allows reciprocal access but is more attractive to Vodafone and Orange, which said in March they would build their own fibre optic network together and are lagging Telefonica in the rollout.
At the end of 2012, there were 3.25 million fibre-to-home (FTTH) connections in Spain, of which 99% belonged to Telefonica. The number of active connections doubled in a year to over 337,000 at the end of 2012.