Corvera Airport "Operational by Easter 2014"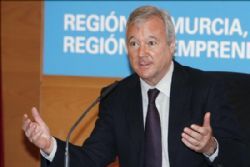 President Valcarcel of Murcia announced earlier this week how the process to bring the region's Corvera Airport in operation is due to start "this month".
When asked by Journalists for details of the companies to have expressed an interest in bidding to supply services, he explained that he had "no idea", but expected there to be a significant interest due to the demand for an airport within the region. Whilst there is a demand, he explained, there is profit.
Valcarcel obviously seemed oblivious to the fact that this "demand" was currently being met quite satisfactorily by the region's San Javier Airport.
The President also hinted that the target date for Corvera Airport being open to the public is Easter 2014 "all being well".
Only 6 weeks ago the Regional Ministry of Public Works and Planning began the process to terminate their contract with Aeromur, due to their inability to bring the facility into operation.
President Valcarcel also suggested that the region may be in a position to make a legal case against Aeromur within the next few months.
Read the Corvera Airport archive of news articles by clicking on the link >> HERE <<