Rajoy sent texts to PP's disgraced ex-treasurer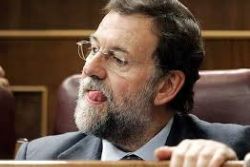 Spanish PM Mariano Rajoy sent supportive text messages to his party's disgraced ex-treasurer for two months after the eruption of a corruption scandal involving PP leaders, El Mundo newspaper said on Sunday.
Luis Barcenas, jailed last month as a flight risk and due to testify in court on Monday, has become a thorn in the side for Rajoy as the premier tries to change recession-hit Spain's image and convince investors a recovery is under way.
His government denies its members received illegal payments from a slush fund run by Barcenas, who says photocopies of the payments are shown in a ledger published by El Pais in January.
Barcenas gave an interview to El Mundo last week and handed over what he said was the original ledger detailing payments to party officials, including Rajoy.
The head of the opposition Socialist party urged Rajoy on Sunday to resign, increasing pressure on the premier. Despite the scandal, however, fewer Spaniards would back the opposition than the PP in elections, according to a poll.
"There have been lies, resounding silence in terms of explanations and collusion, as shown by these text messages," Socialist leader Alfredo Perez Rubalcaba told a news conference. Rajoy's text messages place him uncomfortably close to Barcenas, who is charged with tax fraud, bribery and other crimes. Rajoy has avoided even saying Barcenas' name in public and used his parliamentary majority to avoid appearing before opposition politicians to address graft allegations last week.
"Luis, nothing is easy but we'll do what we can. Cheer up," said one message from 2012. In January this year, when the slush fund allegations broke, Rajoy sent Barcenas a message saying, "Luis, I understand. Stay strong. I'll call you tomorrow. A hug."
A spokeswoman for Rajoy declined to comment on the report.
The scandal has angered Spaniards and, although analysts doubt it will topple Rajoy, support for the PP has plummeted since the November 2011 general election.
A March 14 text showed Barcenas was ready to break away from the party. "Mariano, the behaviour of the two party lawyers this afternoon was shameful," he wrote, according to El Mundo. The "behaviour" of the lawyers was not explained.
"You must know what you're all playing at but I am now freed from any commitment to you and the party," the message said.
A corruption scandal in the province of Andalusia has dogged the Socialist opposition and, along with the slowness of Spain's legal system, has helped the PP ride out the allegations so far.