Over 100'000 Spanish Civil Servants lost work last year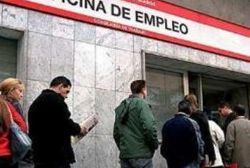 Over 100,000 Spaniards working in the public sector lost their jobs last year as the centre-right government implemented wide-ranging austerity measures to get the economy back on track, the government said in a statement on Sunday.
The total number of civil servants in Spain fell 4% to 2.58 million in January 2013 from 2.69 million a year earlier, with 109,091 people losing posts in central and regional governments and universities.
It is the first time the government has issued figures for public sector job losses last year.
The cuts added to Spain's more than 6 million unemployed.
The country's jobless rate stands at a record 27%, with more than half of young people out of work.
Spain has pledged to cut its government deficit to below the EU's limit of 3.0% of GDP by 2016 by reining in spending.
The government expects public sector job cuts combined with an overhaul of bureaucracy to reduce Spain's spending by €37.7 billion by 2015.
Before the ruling PP began cutting civil servants' jobs a year and a half ago, Spain had added 375,000 public jobs in the previous 3 years.