Spain to issue up to €7 billion in debt this week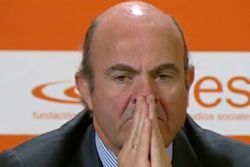 Spain is set to issue between €5 - €7 billion in a short-term bills auction on Tuesday and a triple bond auction on Thursday, the Treasury said on Monday.
The Treasury will sell between €3 - €4 billion of and 12-month T-bills on Tuesday and between €2 - €3 billion of bonds due 2016, 2018 and 2023 on Thursday.
The news comes less than 24 Hours after Spain's Minister of the Economy, Luis de Guindos, proudly told El Pais how the country was out of recession.