Spain's public deficit to May around 3.16% of GDP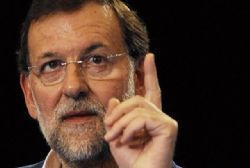 Spain's public deficit to May, excluding the accounts of local administrations, was 3.16% of GDP, marking a jump from the previous month, according to Reuters' calculations using Treasury Ministry data.
The deficit to May was up to 3.16% of GDP for the central government, regional governments and the social security system from 2.17% in April, according to figures published by the ministry on Monday.
But the figures showed the Spanish government, which is battling recession and high unemployment, is more or less on track to meet a year-end deficit target of 6.5% of GDP compared to 7% last year.
The central government deficit stood at 3.07% in May, compared to an end-2013 target of 3.8%, while the shortfall for regional governments was 0.43% of GDP compared to a year-end target of 1.3%.
The social security system had a budget surplus of 0.34% at end-May. The government is targeting a deficit of 1.4% by year-end.