Spain Reports on 2010 Ryanair Fuel Incident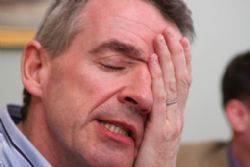 Spanish accident investigation agency CIAIAC has released its investigative report on, and a number of safety recommendations in response to, the May 10, 2010 Ryanair Boeing 737 incident. The CIAIAC sought to determine if Ryanair was flying into Spain with less than the recommended amount of reserve fuel.
After making 2 missed instrument approaches to Spain's Alicante Airport (LEAL) upon arrival from London Stansted Airport as a result of wind shear, the Ryanair flight in question proceeded to its Valencia alternate. Carrying 176 people, the aircraft was so short of fuel on final approach to Valencia that the crew called a Mayday before landing safely.
Other 737s in Ryanair's fleet experienced a similar situation last year when weather in Madrid forced a number of aircraft to divert to Valencia.
The CIAIAC found the pilots of the 2010 Ryanair flight at fault for "inadequate decision-making in their decision to attempt the second approach and in their choice of an alternate airport…which resulted in their fuel dropping below the required minimum fuel reserve."
The CIAIAC also faulted Ryanair's fueling policies. "Though they comply with the minimum legal requirements, they tend to minimize the amount of fuel…and leave none for contingencies below the legal minimums," the investigation team concluded.
Source :
AIN Online : Spain reports on 2010 Ryanair incident .