PSOE threaten Rajoy with no-confidence vote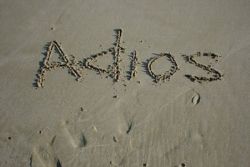 Spain's opposition PSOE party said on Tuesday they would call a symbolic vote of no-confidence against PM Mariano Rajoy if he refused to appear before Parliament to answer questions about a deepening scandal over party financing.
Rajoy's ruling centre-right PP has an absolute majority in Parliament and unless there were significant defections from members of his party, he would survive the vote.
But a motion of no-confidence, which has been used only twice since the death of dictator General Francisco Franco in 1975, would involve him or a representative appearing in Parliament to defend his actions.
Until recently Rajoy had managed to limit the impact of the scandal, which involves alleged illegal donations by construction magnates that were supposedly distributed as cash payments to party leaders in return for juicy contracts.
On Monday, Rajoy rejected calls to resign over the scandal and said he would not give in to "blackmail".
Facing growing pressure within the PP over his handling of the case, he said he would apply his political program until 2015 and had no plan to call early elections.
But pressure from other political groups is mounting.
"I know I don't have enough seats (to win a no-confidence vote) but I want him to appear before this chamber," Socialist leader Alfredo Perez Rubalcaba said in a televised speech to lawmakers from his party.
In a meeting of the standing committee of Parliament on Tuesday, the PP rejected new opposition calls for Rajoy to appear for questioning in the Senate.
The committee is due to discuss on July 24 Rajoy's possible appearance before the lower house. Depending on the results of the talks, the Socialists will then move forward with their threat.
The scandal hits as Rajoy struggles combat a deep recession, a huge budget hole and high unemployment. Spain's fiscal problems last year threatened to push it into seeking a bailout and for months the future of the common currency looked at risk as the euro zone's 4th-biggest economy teetered.
Rajoy resisted pressure to solicit aid and is now hopeful of an economic turnaround, but his public image has been damaged by the scandal.
At the heart of the affair is former party treasurer Luis Barcenas, 55, who was arrested in June and charged with bribery, money laundering, tax fraud and other crimes.
He says he had made 90,000 euros in cash payments to Rajoy and party secretary-general Maria Dolores Cospedal in 2009 and 2010 - an allegation Rajoy denies.