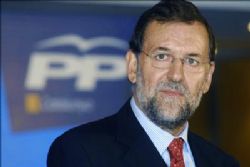 Beleaguered Spanish PM Mariano Rajoy has told a group of business leaders it was necessary to bring down taxes, although no timetable for implementation has been specified.
Speaking in front of Spain's Business Competition Council (CEC), Rajoy defended his decision to raise taxes during the worst recession in Spain's history, but added that Spain still enjoyed one of the lowest tax rates across Europe, El Pais reported.
In the meeting held at the Prime Ministers palace of Moncloa, Rajoy reminded the countries business leaders that he had setup a working group to overhaul the Spanish tax system and are tasked with improving tax collection and lowering rates.
Spain has one of the most complicated tax systems in the world, which often leads to confusion and surprises for many individuals struck with a tax bill at the end of the financial year when annual tax returns are completed. Called 'Renta', all tax payers over a minimum threshold must do an annual tax return and are quite often struck with a tax bill which can run into several thousand Euros all due to miscalculations or inappropriately applied income tax rates on payslips.
In contrast, the UK tax system offers one of the most comprehensively understood systems in the world, whereby tax payers always know roughly how much tax they need to pay and what tax bracket they fall into. Called 'PAYE', taxes are automatically deducted at source before individuals are paid and are correct more often than not.
During the meeting, PM Rajoy stated he was 'moderately' optimistic of Spain's recovery out of recession. He also added that "the rate of recuperation depends on the flow of credit and the decisions that Europe makes".
The Prime Minister was also defiant he would complete his full term despite calls for his resignation over claims he received under-the-table cash payments. The allegations made by Luis Bárcenas, ex-treasurer of Rajoy's ruling Popular Party, have sent shockwaves across the Spanish political spectrum.
The ex-party official alleges he operated a slush fund for the party out of which Rajoy was a beneficiary. Rajoy has refused to comment publicly on the issue, but has stated several times he plans to stay in office.
CEC members said they hoped the government would forge ahead with its work because "political stability is what paves the way for a strong economy and a way out of the recession".