Spanish Economy "Not Affected" by Corruption Allegations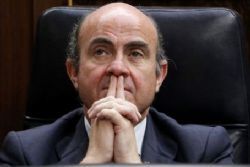 The Spanish Minister of Economy Luis de Guindos said today how corruption allegations, involving the ruling Partido Popular and the PM in particular, will not affect the Spanish economy.
De Guindos made these statements in Barcelona at the IESE Business School where gave a conference on the Spanish economy entitled "The Spanish economy: progress and prospects".
The former PP treasurer Luis Barcenas told a court on Monday that both the current PM Mariano Rajoy and the PP General Secretary Maria Dolores de Cospedal received illegal payments in 2008, 2009 and 2010. In 2010 they would have received €25,000 each.
Asked about the issue, the minister told reporters that "political stability in Spain is guaranteed and is one of the great values we have right now."
"Do not question it because it is guaranteed," he said.
De Guindos recognized that markets are in a situation of "significant volatility" but pointed out that on Tuesday the risk premium was falling and the treasury had carried out a successful auction registering a high demand.
The minister said he was more concerned about what the Spanish society thought than about what international markets thought.
"International markets give for granted that in Spain there is political stability," he said, while adding that they know the government will continue with the reforms.
The Minister insisted that "the recession has been left behind" and said that Spain would see positive data in the following months in employment, activity and external sector that will demonstrate Spain's economic recovery.
De Guindos also said how the government would continue with the reforms to strengthen growth as these measures had solved many imbalances of the Spanish economy.
He assured that Q3 and Q4 of 2013 would see positive growth and that employment data would be "good".
Members of the government had already said the economy showed signs of recovery and assured Spain could see economic growth from Q3 of 2013, although organizations like the IMF said the country will not grow until 2015.