Thousands protest against Rajoy in Madrid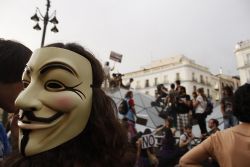 Thousands of protesters calling for the resignation of PM Mariano Rajoy over recent corruption scandals connected with the Partido Popular have demonstrated in the streets of the capital last night.
The protest resulted in a number of arrests and injuries as the demonstration turned violent at around midnight.
Central Madrid was brought to a standstill as the protestors headed towards the HQ of the PP, demanding that Rajoy stepped down as PM following allegations that he received illegal payouts prior to taking office.
Similar action also took place in Barcelona.
Earlier this week Prime Minister Mariano Rajoy shrugged off demands for his resignation following evidence emerged of his discussing illicit party payments to a hidden Swiss Bank Account with former Party Treasures, Luis Barcenas.
Barcenas - since jailed - claimed Rajoy accepted these payments, accusations denied by the prime minister.
Earlier this week Rajoy hinted that his party may look at cuts to taxes in the near future, possibly in a blatant attempt to regain a little ground as his popularity suffers.