AENA issues 'Noise Map' of Spain's Airports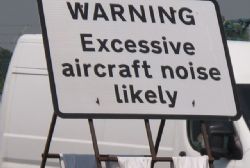 Last Wednesday's edition of the Official State Bulletin (BOE) has released details of the recorded levels of noise surrounding Spain's airports.
However, the so-called 'noise maps' do not correspond with any soundproofing work to residential properties the group has agreed to undertake.
According to AENA, the 'strategic noise map' is a diagnostic tool used to measure existing levels of environmental noise, and to predict likely future levels of noise pollution.
The Airports specifically referred to in the Noise Map are Spain's busiest facilities : Alicante-Elche; Barcelona-El Prat; Bilbao; Gran Canaria; Ibiza; Madrid-Barajas; Malaga- Costa del Sol; Palma de Mallorca; Seville; Tenerife North; Tenerife South and Valencia.
The measure had to be taken to comply with EU Directive 2002/49 concerning environmental noise, with the main objective being to compare the noise generated from various transport infrastructures across the EU before defining and applying standards.
The EU 'Noise Map' only applies to Airports (and other 'Infrastructure Facilities' such as Train Stations) which undertake in excess of 50'000 operations per year.