Positive Statement about Corvera Airport to be made "soon"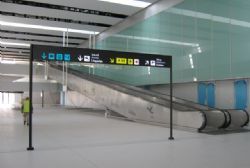 The Minister of Public Works and Planning for the regional government of Murcia, Antonio Sevilla, said earlier this week how there will soon be a positive statement concerning the operation of Corvera International Airport.
This follows a similar statement made by the Minister of Tourism, Pedro Alberto Cruz, who told reporters how "Clear and decisive News" would be made known "by the end of the month".
For his part, President Valcárcel has made no further comment since his announcement last week that "Corvera Airport will be operational by Easter 2014" .
Back in May, the Regional Government began a process to terminate the contract with the concession holder of the airport, Aeromur, due to their inability to make the facility operational.