Tumbit Gives Opportunity To WIN a Fantastic Android Tablet Computer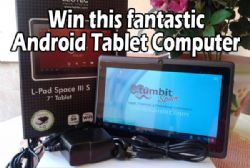 Know how website, Tumbit.com has announced it is giving away an Android Tablet Computer in a competition open to everyone.
In August 2013, the popular expat and traveller website turns 4 years old and as part of the celebrations, executives decided to give something back as a thank you for all the support they have received.
"We've had a fantastic time building and maintaining the information we provide for all our visitors" Said Director Dan Wells.
"Everyone in the team is extremely dedicated to the needs of our visitors and although our successes are something to celebrate, we won't deviate from our commitment to continually deliver the very best quality information found anywhere on the internet" he added.
Tumbit.com is the brain child of co-founders Daniel Wells and Tech Director, Daniel Brammall who came together to fulfil a much sought after online information resource relating to Spain.
Over the last four years, Spain has experienced some phenomenal events such as the recession and partial collapse of the economy which tumbit.com thrust itself onto the frontline providing useful information for those caught up in the aftermath.
Additionally, tumbit team members were physically caught up in the double Lorca earthquakes of 2011, as well as the horrendous forest fires and severe national floods of 2012, in all of which Tumbit.com was able to give firsthand accounts of the tragedies and information to help those affected.
"It's been an exciting journey" said Daniel Brammall. "There's so much more exciting things to come..." he said when quizzed about future developments, adding "Watch this space..."
The competition " WIN a Fantastic Android Tablet Computer " can be entered by clicking here ...