Spanish Economy Shrinks "Only Slightly" in Q2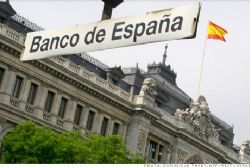 The Spanish economy shrank 0.1% in Q2, the Bank of Spain estimated on Tuesday, the smallest drop since the country slid into recession at the end of 2011.
GDP probably fell 1.8% in Q2 year on year, the bank said, after falling 2% in Q1.
The economy shrank 0.5% quarter on quarter between January and March.
Spain's economy has been in and out of recession since a property bubble burst in 2008, with domestic demand dragged down by dire consumer and business sentiment and only exports helping offset otherwise shrinking output.
"Between April and June, confidence indicators showed a progressive improvement which could point to a more favourable domestic spending in the next few quarters," the central bank said.
The government has said it expects the economy to emerge from recession by Q3, though many economists are less optimistic, with the IMF seeing economic contraction into next year.
The National Statistics Institute (INE) publishes preliminary Q2 GDP figures July 30.