Brand Spain deputy resigns after Catalan Twitter insult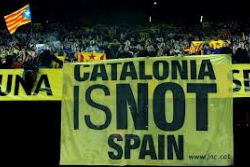 The deputy to the High Commissioner for Brand Spain - a government initiative aimed at improving the image of the country at home and abroad - was removed from his post on Saturday after insulting Catalans on Twitter.
"Fucking Catalans, they don't deserve anything," Juan Carlos Gafo Acevedo tweeted on Friday, after Catalan nationalists booed the Spanish anthem during the opening ceremony of the World Swimming Championships in Barcelona.
Gafo, 50, who is a former ambassador to Lebanon, tried to backtrack on his comment soon after. On Saturday afternoon he replied to another Twitter user who had reproached him: "Total respect, but you gotta understand the anger when a world championship is inaugurated… I would never boo the Catalan anthem." Then, 2 minutes later, he added: "All I mean to say is that the anthem deserves respect. I would never boo the Catalan anthem; I was not referring to all Catalans, whom I fully respect."
Then, late Saturday, Gafo tweeted: "To all: I stand corrected. I got mad at hearing the Spanish anthem booed. That's all. I have nothing against Catalonia or Catalans."
But it was too late. Although Gafo has just 40 followers on Twitter, a retweet of the message made its way to the Foreign Ministry, to which the Brand Spain office answers.
Minister José Manuel García Margallo got in touch with Brand Spain High Commissioner Carlos Espinosa de los Monteros to ascertain if the statements attributed to his top aide were true. Ministry sources said Margallo considered the insult "intolerable and incompatible with the spirit of the Spain brand."
After meeting with his direct superior, Gafo sent a final message offering an official apology and announcing he would not return to his post. "I apologize to Catalans. It was a mistake and I ask for forgiveness for my statements. I am leaving Brand Spain."