Spanish Towns Opts to Stay Blue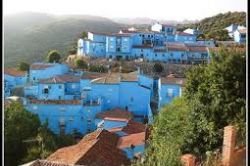 A Spanish hilltop village has found a way to chase away the country's recession blues by keeping all its buildings blue, the way they were painted in 2011 for a promotion for a cartoon Smurf movie.
"We calculate that around 210,000 tourists have visited us since we painted ourselves blue 2 years ago, and people keep on coming," Juzcar Mayor David Fernandez told Reuters on Tuesday.
Tourism is one of the few bright spots in Spain's recession-bound economy.
A traditional village nestled amongst chestnut forests in the southern region of Andalusia, Juzcar, with a population of fewer than 250 people, painted everything blue, including its church and town hall, when it was chosen by Sony Pictures to host an event to promote the movie "The Smurfs 3D".
Promoters pledged to repaint the town white after the event, but residents voted to keep it blue because of the economic benefits brought by Smurf-seeking tourists. The fictional blue creatures are based on a Belgian cartoon series, where they are depicted as living in mushroom-like houses.