77 Now Dead in Spain's Worst Train Crash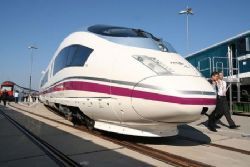 A Train crash on the outskirts of Santiago de Composetlla, Galicia, has left at least 77 dead and around 131 seriously injured.
Initial reports suggest that the Train carrying 247 passengers was running 5 Minutes late and under pressure to make up time, which caused the driver to speed through a notoriously difficult bend. The permitted top speed for the manoeuvre is typically 50km/h, however information provided by sources indicate that the train may have been traveling as fast as 180km/h.
The train and six carriages subsequently derailed, with fires breaking out in a number of carriages, hampering escape and rescue attempts.
RENFE has ruled out the possibility of the event being sabotage or terrorism.
Spanish PM- Mariano Rajoy - from Santiago de Compostella himself - is expected to visit the city later today.