Spain's Bankia and rivals see profit recovery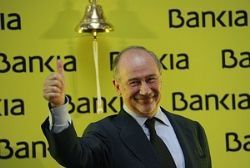 A trio of Spanish banks, including bailed out lender Bankia, posted big jumps in first-half profits as trading gains and lower writedowns on property assets helped a partial recovery from their torrid time last year.
Spanish bank profits were gutted last year by massive losses on soured real estate assets and a deep recession is still hurting firms as more borrowers struggle to keep up with loan payments. Bankia posted a €19.2 billion loss last year, the biggest of any bank globally.
It bounced back with a €200 million profit for the first half of this year. It had been expected to post a €246 million net profit, according to a Reuters poll of 4 analysts.
The lender said net interest income, or the difference between income from loans and interest paid on deposits, was €1.1 billion, down 36% on the first half of 2012.
Mid-sized rivals Sabadell and Bankinter also on Thursday reported rises in profit from a year ago.
Sabadell set aside an extra €321 million towards provisions related to refinanced loans, some of which it will have to reclassify as non-performing ones, as instructed by the Bank of Spain.
The bank posted a €123-million net profit for the first half of the 2013, beating analyst expectations after big gains from financial transactions, such as trading operations.
The Bank of Spain recently asked lenders to reclassify more of their refinanced loans as non-performing ones.
Bankinter's net profit in the first half was €102 million, sharply up from the same period a year ago when it was hurt by writedowns on rotten property assets.
Spain has been in or close to recession for 5 years, largely due to a bursting of a decade-long property bubble. It needed a €42 billion bailout of its banks last year, with most of the problems among its raft of smaller lenders.