CCTV Footage of Spain AVE Galicia Train Crash Emerges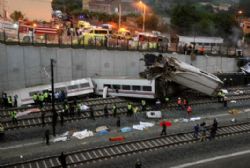 CCTV video footage has emerged of the moment the doomed high speed AVE train from Madrid to Ferrol crashed just outside of Santiago de Compostela, Galicia, killing scores of passengers and seriously injuring many more.
Viewer discretion is advised as the video contains footage of a train crash and may be distressing to some.
The video shows a carriage behind the front tractor locomotive appearing to topple off the rails, dragging all the following carriages and rear engine with it into a concrete wall, before slamming into the CCTV cameras position and cutting the picture.
The high speed train, carrying more than 200 passengers plus crew, derailed on a tight curve on a section of track opened less than two years ago and was described as "complicated" by experts from the Ministry of Public Works.
As such, speed restrictions were implemented limiting speeds to no more than 80kph, however according to Spanish newspaper, El Pais, the train may have been travelling at more than 180km at the time of the incident.
Rescue workers had worked through the night searching for victims, which by day break some of the carriages had already been removed from the crash site. By lunchtime today, search and rescue operations had ceased.
It has been reported a Briton and several Americans are amongst more than 130 injured survivors and up to 40 passengers, including four children, remain in a serious condition.
RENFE, the Spanish state rail network operator, was quick to deny rumours there was a fault with the train and stressed the locomotive had been inspected only a few hours before the accident.
An official investigation has been opened into the disaster with much of the spotlight and attention centred on the driver.
Speculation is rife that the train was running late and may have prompted the excessive speed, but it is unclear if the driver was under any pressure from rail officials to make up that time if indeed it was running late.
Spain's AVE (Alta Velocidad España – or High Speed Spain) rail infrastructure is an ambitious, highly controversial and extremely expensive network of high speed rail links between major cities across Spain.
Only last month, the Alicante – Madrid leg of the network opened in a blaze of glory slashing rail journeys between the two cities by more than 50 minutes, or more than 2 ½ hours by road. Prime Minister Mariano Rajoy and Prince Felipe of Asturias made the inaugural journey from Madrid to Alicante in June 2013.
PM Mariano Rajoy, who himself is from the city has already visited the crash site in which he has declared THREE days of official mourning.