PM's Office Apologise for Train Crash Message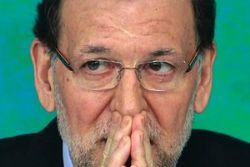 The Prime Ministerial staff of Mariano Rajoy have admitted to making an offensive and deeply embarrassing error in issuing a message of condolence following Yesterday evening's train crash in Galicia.
In their haste to be amongst the first to be seen to issue a message of comfort to the friends and family of the 80 dead and scores of seriously injured passengers, the Prime Minister's office admitted to copying and pasting a similar previous message.
The final paragraph of the original message expressed "deep sympathy" for the victims of the earthquake in Gansu, China, which was released earlier this week.
PM Mariano Rajoy, himself a Galician, is already suffering in the popularity polls over allegations of his receiving illicit payments from PP party supporters.