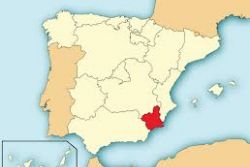 Around 95% of visitors to overseas property exhibitions do not know where the Region of Murcia is located on a map of Spain, according to 'Destination Residential' property magazine.
The President of the Association of Real Estate Agents in Murcia (APIRM), Josť HernŠndez, said how the Regional and National Office of Tourism must work harder to promote Murcia - starting with the operation of Corvera International Airport.
"Corvera Airport is key to bringing European, Asian and Russian visitors to the Region. The problem Murcia is currently faced with is that the majority of tourists fly into Alicante - and usually end up buying in Alicante".
However, Tumbit is concerned that two tiny things are being overlooked here : 1.) Who says that the '3 Million Passengers per year' predicted to arrive at Corvera Airport is sustainable - even when it was first floated in 2006 - before the property crash ? 2.) That Sr Hernandez should be reminded that Murcia already has an Airport...