Government of Spain Taxes Sun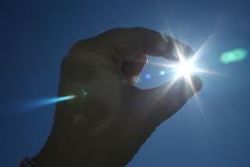 Spain's Energias Renovable has said how the Secretary of State for Energy, Alberto Nadal, has signed a draft royal decree to levy a tax on energy obtained for from photovoltaic installation.
The Spanish government has apparently bowed to pressure from members of the Solar Industry who are seeking ways to 'protect' their business.
The so-called 'Consumption Tax' was supported by the Spanish Photovoltaic Union (UNEF), which represents around 300 companies - or around 85% of the industry.
According to El Pais, becoming energy self-sufficient looks likely to now become very expensive, and with little in the way of incentives for homeowners and busisness to consider green / renewable energy sources. Collecting photons of sunlight for your own use could lead to a fine of up to €30 million.