Spain's PSOE all but level with ruling PP : poll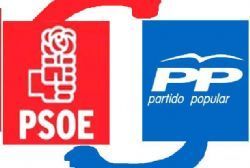 Spain's PSOE Socialist opposition party have all but drawn level in the polls with the ruling centre-right for the first time since elections in 2011, a survey showed, as a corruption scandal erodes the government's popularity.
The ruling Partido Popualr of PM Mariano Rajoy would win 23% of the vote if elections were held now, according to the survey published on Sunday in newspaper El Pais.
That is little more than half the 44.6% that took the PP to an absolute parliamentary majority in the November 2011 ballot.
Since then it has presided over a deeply unpopular austerity program, watched unemployment soar well above 25% and been implicated in a scandal about covert payments allegedly made to senior PP figures including Rajoy, who will face questions from lawmakers on the issue this week.
A year ago the PP's rating was 30%.
Corruption claims have also dogged the Socialists, who the Metroscopia poll of 1,000 people showed would win 22.8% of the vote, down from 28.7% at the last election as the party battles a graft scandal in the Andalusia region.
Rajoy has so far avoided taking questions on the PP scandal and only agreed to appear in parliament after opposition parties threatened to call a symbolic vote of no-confidence Former PP treasurer Luis Barcenas has told a judge he collected millions of euros in cash donations from construction magnates and distributed them to party leaders including the prime minister, who has denied wrongdoing.
Corruption is considered by Spaniards to be the nation's most serious problem after unemployment, a wider state poll showed in April, and Spain's biggest parties have lost significant ground to smaller ones thought to be more honest.
Sunday's poll showed Communist grouping Izquierda Unida up to 16.2% compared with 6.9% at the election, and UPyD, led by a former Socialist and billing itself as centrist, at 11.8% from 4.7%.