Spain and Morocco mull undersea rail link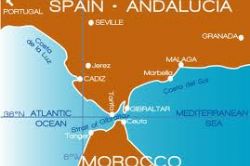 The Governments of Spain and Morocco are reportedly seeking way to improve transport infrastructure between the two countries.
More than 20 years ago, Spain and Morocco first looked at the possibility of establishing a 39km track underneath the straights of Gibraltar, however this has been dogged by problems at different points over previous years.
In a recent meeting between Spanish Minister of Public Works and Transport Ana Pastor and Moroccan minister Aziz Rabbah both countries recognised the economic importance of better transport links between Europe and North Africa.
A statement posted on the official website of the Ministry of Public Works and Transport read "It is essential to establish the infrastructure networks and transport services to provide connectivity and to improve our ability to access global markets."