Spain's INE contradict Gov't on employment hike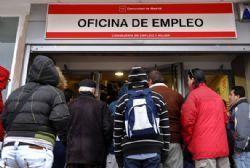 The marginally higher than 150,000 jobs that the government announced were created during Q2 are seasonal positions linked to the tourism and agriculture industries, according to the National Statistics Institute (INE).
Once the high season is over the jobs that were generated will become empty positions by the end of summer, boosting the unemployment rate again.
Last Thursday, Economy Minister Luis de Guindos celebrated the drop in unemployment below the 6-million mark after INE released its Active Population Survey (EPA). "I took some 20 consecutive quarters - that is to say 5 years - so that the Spanish economy could create non-seasonal jobs," De Guindos told a congressional committee on Thursday.
Eliminating the seasonal factors, the ministry said the number of positions actually created was 13,100 - a small 0.1% hike in employment figures.
That figure remained on the Economy Ministry's website until Saturday when it was switched to the INE's prediction that unemployment would rise by 0.3% once the seasonal factors were eliminated.