Spain's Economy expected to have Stabilised in Q2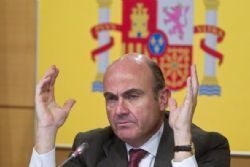 Spain's 2-year slump is close to coming to an end, official data is expected to show, but with weak real economic data and new austerity casting a long shadow, a sustained recovery may still be far off.
The National Statistics Institute (INE) publishes Q1 preliminary economic output figures on Tuesday, which the Bank of Spain has forecast will show the contraction easing to 0.1% from a fall of 0.5% a quarter earlier.
Following the Bank of Spain data, Economy Minister Luis de Guindos was quick to announce that the recession, the second since 2009, had ended, but economists are less convinced.
"While we agree that the economy looks likely to stabilise over the next few months ... we doubt that growth will pick up significantly and we think risks are to the downside," economist at Bank of America Merrill Lynch Ruben Segura-Cayuela wrote recently after a visit to Madrid.
The central bank saw output remaining flat over the next 12 months and warned the economy remained very sensitive to adverse shocks, particularly on the fiscal side.
Spain's economy first slipped into recession in 2008 after a burst property bubble badly undermined the foundations of one of the country's key pillars of growth - construction - sending unemployment to new record-highs and depressing business.
Since then, dire domestic demand has been further hit by tax hikes and spending cuts aimed at balancing the budget.
While latest PMI surveys and encouraging unemployment data for the second quarter suggest Guindos' optimism may be founded, earnings for the first half of the year posted by Spain's biggest firms over the last few days offered a mixed picture.
Many indicators, including retails sales, due on Wednesday, as well as electricity and gas consumption, show that domestic activity is still struggling.
In addition, even though the emphasis in Europe has shifted toward growth and away from austerity in recent months, Spain's high fiscal imbalances mean more budget are likely to be made, potentially hitting the tentative signs of recovery.
The economy's high reliance on activity beyond its borders - exports were worth almost a third of economic activity in Q1, up from just 22.9% 4 years earlier - add increased uncertainty to the outlook.