Spain sees €5 Bln leave the country in May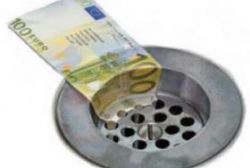 Spain registered an outflow of capital of €5.06 billion in May according to data published on Wednesday by the Bank of Spain.
This is bad news for Spain, compared with a capital inflow of €1.95 billion in April.
Spain had registered an outflow of capital in March, after 6 consecutive months of capital inflow that had started in September 2012.
Meanwhile, in annual terms the situation has improved as the country registered in May 2012 an outflow of capital of €41.28 billion, 8 times more than the figure of May 2013.
According to the Bank of Spain, from January to May, foreign investment reached €40.3 billion while in the same period of 2012 there was an outflow of capital of €163.2 billion.
Meanwhile, Wednesday also saw the Bank of Spain publish data about Spain's balance of trade which registered a trade surplus of €704.6 million in May thanks to a fall in imports and an increase in exports.
Exports increased by 9.9% in annual terms while imports decreased by 0.8%, mainly due to the difficult situation of firms and families in Spain that cannot afford importing products as they used to because of the crisis.