Train driver on phone to colleague before crash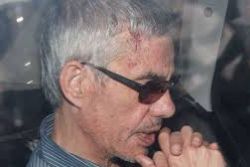 A RENFE supervisor on Wednesday acknowledged that he was the person who phoned the driver of the Alvia train minutes before it crashed on July 24 in Santiago de Compostela, killing 79 people and injuring some 170 other passengers.
Antonio Martín told EL PAÍS that he called driver Francisco José Garzón on the corporate phone to give him instructions on how to arrive at Pontedeume in A Coruña. The call was made as Garzón entered the sharp A Grandeira curve in Santiago's Angrois neighborhood at double the speed limit for the stretch of track.
Martín said the reason he made the call was to make it easier for a family with children who were traveling on the train to get off. The supervisor told police that he was in carriage number three and was accompanied by a rail security officer.
RENFE regulations prohibit anyone from calling the drivers of a train except for emergency purposes while they are operating a rail service.
In his statement to police, Martín said that he kept the phone call a secret at the moment of the accident and said he had spoken to Garzón only once previously at the station in Ourense, in line with protocol.
Sources close to the investigation said that Martín wanted to protect Garzón, who he describes as a close friend, and initially didn't come forward with the fact that he made the call.