Lost Passports Cost British £5 Million a Year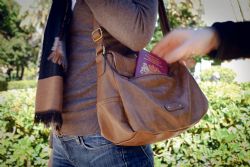 Latest foreign office figures have revealed that lost or damaged passports are costing Britain's more than €5 million per year.
According to a report published on the online version of the Telegraph, thousands of passports are lost, stolen or damaged whilst abroad in what the Foreign Office calls an increasing number of "avoidable" cases, which was up 300 percent last year amounting to more than 10,000 instances.
Bizarrely, the most notable cases which could have been avoided include passports being hidden in the freezer or used as notebooks. Other instances include passports expiring whilst being abroad.
Emergency Travel Documents issued cost £95 each and can take several days to receive depending on the country the documents are being issued in.
Unsurprisingly, more than a fifth of all emergency travel documents issued between 2012/2013 were in Spain amounting to just over 6,000 instances. 3,180 were issued in the US and 1,618 in Australia.
Barcelona ranked top for Emergency Travel Documents issued as a result of theft resulting from the high number of bag snatchers, distraction thefts and pickpockets in the city.
The staggering £5 million price tag was reached by taking into account the cost of issuing emergency documents and purchasing replacement passports at home, although the figure may indeed be significantly more when factoring costs such as passport photos, phone calls and travel expenses.
Travellers are reminded once again of the importance of appropriate travel insurance. Policies vary in what exactly is covered, however most do cover lost or stolen passports.
Frustrated by the rising number of "avoidable" instances, the UK Foreign Office has launched an awareness campaign to remind travellers of the importance of looking after their passports, especially whilst abroad. They are also recommending that passport holders should take at least 2 copies of their passport, one for identification purposes on nights out whilst another copy should be left with relatives.
The UK Foreign Office is also reminding travellers that some foreign destinations demand that passports are valid for 6 months after the date of travel.