Killer Heatwave Scorches Spain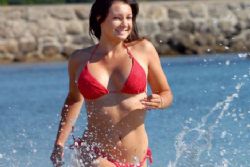 Tourists travelling to Spain are being warned of a killer heatwave sweeping the country from today which is expected to scorch the country and last a week.
Winds from North Africa are bringing with them extremely high temperature which experts are saying could reach as high as 43 degrees.
Spain often suffers from African winds with high temperatures and on occasion sand and dust storms blown across the Mediterranean reach coastal and inland areas of the country.
Particular areas which are predicted to suffer the most are the regions of Andalucía and Murcia in addition to the Balearic Island of Mallorca, Menorca and Ibiza.
With temperatures expected to be twice that of the UK over the next few days, Spanish health authorities are advising people to wear lose closing, hats, UV protection sunglasses and sun creams.
Additionally, avoiding spicy foods, alcohol and caffeine are recommended as these increase body temperature and significantly increase your chances of dehydration.
Where possible, head for the shade at all times and avoid the hottest parts of the day from 12pm through to 4pm and drink plenty of water, at least 2 litres per day. Sports drinks are recommended also to replace glucose and electrolytes.
Night times are extremely hot also. Top tips from the locals include placing bed sheets in a plastic bag and placing in the freezer a few hours before bedtime, soaking towels in cold water and refrigerating, taking regular cold showers and cooling down in swimming pools and the sea.
Spanish locals are used to extreme heat and adopt these recommendations instinctively. Likewise, the locals tend only to be seen on the beaches early in the morning and late in the afternoons.
Beach first aiders and surf rescuers Cruz Roja are situated on almost all tourist beaches across Spain who will help you if you begin to feel the effects of the extreme temperatures.
Those travelling in groups are advised to keep an eye on each other also, as the effects of dehydration and sunstroke are not immediately obvious to the victim.