Operation Salida Begins in Earnest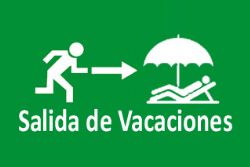 The annual exodus of holidaying Spaniards began in earnest this morning as thousands of travellers hit the roads and headed for the beaches.
Traditionally, the majority of Spaniards take their annual vacations throughout the entirety of August effectively shutting down Spain for business.
However, since the first day of August fell on a weekday rather than the weekend, traveller numbers are not expected to peak until over the weekend.
Operation Salida is a joint initiative involving the emergency services and infrastructure management organisations along with the DGT.
This year is especially difficult as the heatwave scorching Spain from today will no doubt cause problems for motorists caught up in congestion and tail backs.
In 2010 a similar heatwave struck over the same period. Combined with large tailbacks on toll roads, operators were forced to open toll gates without payment to relieve congestion following advice from emergency services and infrastructure officials.
Motorists are advised to avoid major roads over the weekend unless absolutely necessary and allow for additional journey times.
The DGT and Guardia Civil advise to carry plenty of water, ensure vehicles are in good mechanical working order and make sure vehicles are carrying enough fuel to reach your destination plus a provision for delays and congestion on busy roads.
Additionally, motorist should take plenty of rest breaks and to avoid travelling during the hottest parts of the day.
Recommended Reading
• Killer Heatwave Scorches Spain