King of Morocco had 'no knowledge' of Spanish Paedophile pardon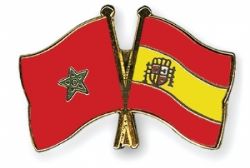 The King of Morocco has promised a full investigation into the royal pardoning of a Spanish national convicted of raping 11 children.
Daniel Galvan Vina was originally sentenced to 30 years in prison in 2011, but was among the 48 jailed Spaniards freed by King Mohammed VI, sparking angry protests and violent clashes with police in Rabat on Friday.
A royal statement said the king had been unaware of the gravity of the Spaniard's crimes.
However, last week Vina was freed by royal decree from a jail in Kenitra, north of the capital, and is reported to have since left the country.
Dozens of people were injured in violent confrontations between hundreds of protesters and police outside parliament in the Moroccan capital on Friday.
"The king was never informed – in any way or at any time – of the seriousness of the abject crimes of which the person concerned was convicted," a statement released by the royal palace said on Sunday.
"It is clear that the sovereign would never have consented" to his release, given the "monstrous crimes" committed, the statement concluded.
It is normal procedure for the king to pardon prisoners on special occasions, such as Throne Day, last Tuesday.
Morocco's Justice Ministry said on Friday the pardons were based on national interests and "friendly relations" with Spain.
A number of foreign nationals have recently been detained in Morocco under suspicion of paedophilia.
In June, a British man was arrested in the port town of Tetouan over allegations of raping a six-year-old girl. In May, a Casablanca court sentenced a French man to 12 years in jail on paedophilia charges.
Thousands of Moroccans marched in Casablanca earlier this year to condemn paedophilia and violence against children in the North African country.
Recommended Reading
• Moroccans protest over pardon of Spanish Paedophile