Granada-Jaen Airport achieves full EASA certification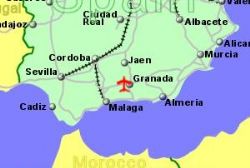 Federico García Lorca Granada-Jaén Airport (FGL) has recieved certification from the Spanish Aviation Safety Agency (EASA), which confirms that it meets international standards recommended by the International Civil Aviation Organization (ICAO).
The certificate, issued last Wednesday, July 31, by EASA confirms that AENA ensures all operations carried out at the facility are done so in accordance with Royal Decree 862/2009, which covers the safety of infrastructure and operations at Spanish airports.
The Royal Decree states that all airports must comply with EASA standards by 31st March 2016, and as such FGL has met this requirement some 2.1/2 years early.
Further to FGL, Madrid- Barajas, Barcelona-El Prat, Palma de Mallorca, Malaga-Costa del Sol and Ibiza Airport have now also achieved this certification.
The EASA Certification includes the entire airport site and ensures that all facilities, systems, equipment, services and procedures comply with the new regulations.