Spanish King Escapes Scrutiny over Paedophile Pardon Request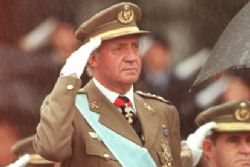 Bungling King Carlos I of Spain has so far escaped scrutiny over his part in the official royal pardon of Daniel Galvan, convicted of paedophilia in Morocco.
Galvan, who once worked at the University of Murcia, was convicted of raping 11 children aged between four and 15 and sentenced in September 2011 to 30 years in prison in Morocco.
However, following a request made by the Spanish King to King Mohamed VI of Morocco, 48 Spanish nationals incarcerated there, including Galvan, were officially pardoned and released.
What is unclear is whether the King of Spain requested the royal pardon for named individuals and if so, why was Galvan's name on this list.
Likewise, the Spanish state would have been well aware of the crimes these individuals were convicted of, which should no doubt have raised serious questions.
Following Galvan's release, violent protests erupted in Morocco, prompting the King of Morocco to demand an immediate investigation into how such a criminal could have been released, let alone pardoned by a Royal head of state.
Spain's Foreign Office, headed by Jose Garcia-Margallo, should have at least raised a query about the potential fallout from such an error and further highlights their inability to adequately represent Spanish interests with its allies around the globe.
King Mohamed VI has since fired the country's prison chief over the highly sensitive bungle and revoked the official pardon for Daniel Galvan.
Galvan has since been detained in Murcia, Spain and is due to appear before the National Audience in Madrid, Spain's top court, which will decide his fate. However, the Spanish government has said it is in talks with Morocco regarding his fate.
With much of the Spanish media dominated by tensions between Gibraltar, Spain and the UK, the limelight regarding the Spanish Prime Minster Mariano Rajoy's involvement in a corruption scandal or the King of Spain requesting a royal pardon for a convicted paedophile has seriously dwindled with many news agencies reporting nothing at all.