Spain Analyzes Rail Sector After Train Derailment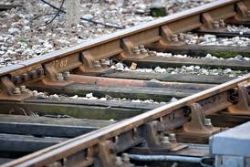 A technical commission, created by Spain's ruling Partido Popular to analyze the country's rail sector after the train derailment on July 24, held its first meeting on Monday afternoon. The Ministry of Development announced it had established a technical-scientific commission, comprised of 12 "prestigious professionals in the rail sector".
In a communiqué, the ministry underlined the group of experts will draw up, in a 6-month-period, a report on how to improve security of railroads and its comparison to other neighboring countries.
A train, carrying 250 passengers derailed on July 24 four kilometers away from Santiago de Compostela station, Galicia, in a sharp bend, where the train had to reduce its speed from 200 to 80 kilometers per hour.
The first data of the investigation note that exceeding the speed limit was the cause of the accident, where 79 people died and is considered to be one of the worst rail catastrophes in the history of Spain.
According to the media, the Spanish rail industry fears the accident in Santiago jeopardizes the international projects in nations such as Brazil, United States or Russia.
Read previous news articles concerning the Santiago train crash by clicking the link >> HERE <<