Spain to Relax Gibraltar Border Checks Following Cameron Call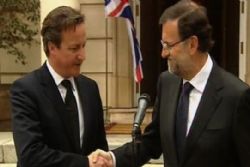 Spain has agreed to relax strict border controls between the Spanish mainland and Gibraltar following a telephone conversation with the UK.
A Downing Street press release said UK PM David Cameron called his Spanish counterpart PM Mariano Rajoy to express concern over deteriorating relations between the UK and Spain as a result of the escalating Gibraltar dispute.
During the 15 minute conversation, Cameron said Britain was not willing to discuss Gibraltar's sovereignty, but was open to talks to try to ease tensions. Downing Street said Mr Cameron had told Mr Rajoy he did not want the row to "damage our bilateral relationship" but also made clear he was standing firm.
"Mr Rajoy agreed that he did not want the issue to become an obstacle in the bilateral relations and that we needed to find a way to de-escalate the issue" a spokesman said.
Additionally, Spanish fishermen, workers groups and the opposition party PSOE have jointly condemned the actions by the Spanish government, particularly the actions by Spanish foreign minister José García-Margallo.
However, the Spanish fishermen maintain the concrete blocks should be removed so they can fish in peace.
Britain's Ambassador in Spain, Giles Paxman, visited the Spanish secretary of state (for foreign affairs) Gonzalo de Benito to formally protest at the disproportionate border checks at the weekend.
"The ambassador re-iterated that the UK would stand shoulder to shoulder with Gibraltar in face of threats from Spain."
Spain has been accused by Gibraltar's chief minister of "sabre-rattling" and behaving like North Korea after foreign minister Mr Garcia-Margallo announced proposals to levy border-crossing fees.
The Government has insisted there will be no compromise over the sovereignty of Gibraltar, and Foreign Secretary William Hague has vowed to stand "shoulder to shoulder" with its citizens.
Whilst most agree the rise in tensions is nothing to do with fishing rights, the most heavily affected by the threats would be almost 10,000 Spanish individuals who live in Spain and cross the border to work in Gibraltar. This contrasts heavily to the few fisherman affected by the Gibraltar reef expansion.