Small Spanish Town has More Than 60 Cars per Person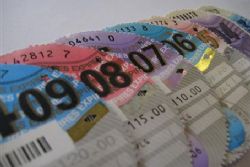 A small Spanish town has clinched the title for having the most number of registered vehicles per person, a whopping 62 cars per inhabitant.
Aguilar de Segarra, in the province of Barcelona with a population of just 475, has one of the lowest rates of initial registration and annual tax charges. One individual living in the village pays only €50 a year for 3 vehicles he owns.
You would be forgiven for thinking that everyone in the town owns a mansion with vast amounts of land to park their numerous cars, however, not all vehicles registered in the tiny town belong to the locals.
The vast majority belong to lease hire and rental companies who have taken advantage of the heavily discounted tax rate.
Individuals wishing to take advantage of the tax break must be registered on the padron and businesses must register themselves as tax domicile in the village, needing only a buzon (p.o. box).
Aguilar de Segarra is not the only town in Spain to boast more cars per head as a result of cheaper taxation rules.
Rozas de Puerto Real, Madrid has more than 9200 registered vehicles yet there are only 470 inhabitants averaging around 20 cars per person. Again, lease hire and rental companies make up the numbers whilst individuals pay on average just €18 per car, with many paying at little as €10.
Serranillos del Valle, Madrid is another town which offers similar discounts and averages around €20 per vehicle.
Antonio Sánchez Fernández, Mayor of Serranillos del Valle said "individuals can pay around €115 to register their cars in Madrid, whereas here its closer to the €20 mark".
"Companies who register their vehicles here can save between €100,000 and €200,000" he added.
Amazingly, up to 14 municipalities scattered across the province of Madrid have more registered vehicles than there are residents.
Rationale
The reason behind the huge disparity is a discount applied to the City Council Vehicle Tax (IVTM), the old vehicle taxation system. Under the system, municipalities are entitled to apply a discount of up to 75% by law.
As cash strapped local councils sought new ways to raise capital, an explosion in registration competition ensued between municipalities.
Other municipalities with high rates of vehicles are Colmenar del Arroyo with 18 cars per inhabitant and Robledo de Chavela with 17 according to the DGT.
Fed up with losing more than €60 Million per year, the City of Madrid brought proceeding in 2007 to curb the trend, however little progress has been made and no further action has been taken.
Proposed Changes
The gravy train is likely to end though as Mario Arnaldo, president of European Automobile Associates (AEA) has said that in 2014 the sector expects "significant changes in road tax".
Modifications will be directed towards the harmonization of IVTM, by removing the legal margin for discounts and adjusting the rate for each vehicle based on emissions of polluting gases.